16 / 01 / 2018
R32 New Refrigerant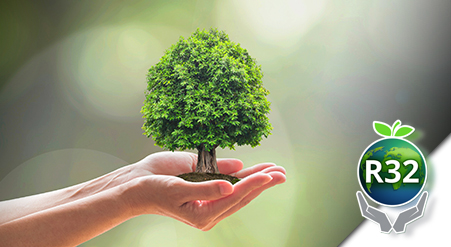 Nowadays the protection of the environment, is one of the most important issues of the society. Both end users and businesses, are doing their best, to protect the environment, in any way they can.
Environmental protection should be a responsibility and a privilege for all of us.
Inventor, an air-conditioning pioneer, acting towards the development of eco-consciousness, introduces the new refrigerant R32 in its air-conditioning products.
Why should I choose R32?
Choosing an air-condition with the new refrigerant R32, which ensures 68% smaller global warning potential (GWP), you can contribute to environmental protection while enjoying the perfect cooling and heating conditions.
The new refrigerant R32:
Has been used for years, as part of the refrigerant R410 (R410 is a compound of 50% R-32 and 50% R-125). The chemical naming is difluoromethane.
Inventor reflects on the many benefits of R32 usage not only as a compound part (of R410), but as an exclusive refrigerant for the refrigeration installments.
Protects the environment, with minimum impact
Significantly reduces maintenance expenses
Increases the comfort levels of the user
No environmental impact on the ozone layer
Contributes in the reduction of the global warming phenomenon
Increases the power efficiency of the air-condition unit, in comparison to the R410 refrigerant
R32 is technician- friendly, since it constitutes of a substance with extremely low toxicity level. In addition, applying the particular refrigerant is particularly easy.
Recycling
As a simple refrigerant, not a compound, R32 can be easily recycled and re-applied. Thus, it is environmentally beneficiary.
Towards the European Regulation
In 2025 , the European Regulation is to forbid, the importation of air-conditions with R-410 A refrigerant. Inventor, is already importing such air-conditions both in order to be prepared for the future regulation and to responsibly contribute in the reduction of the ozone levels and environmental protection.
Which air-condition should I choose?
The new air-condition series Life Pro Wi-Fi , Nemesis Pro and Passion ECO, can be an ideal choice to achieve effective environmental protection as well as enjoying higher comfort levels, since they all offer the highest energy class A+++ and refrigerant R32 combining eco-consciousness and innovation.
Choosing the new Life Pro Wi-Fi, Nemesis Pro and Passion ECO you can ensure:
Clean atmosphere
Maximum performance
Reduction of maintenance costs
Perfect conditions can be obtained at any spot you choose via the Follow Me function and smart sensor of the air-condition series Life Pro Wi-Fi, Nemesis Pro and Passion ECO.
Dispose of indoor unit humidity using the Blow Xfan function.
Enjoy fresh and clean air, bacteria and odor free, thanks to the Plasma Ionizer and Self-Cleaning function.
Life Pro Wi-Fi , Nemesis Pro and Passion ECO air-condition series is here to offer a clean and comfortable environment for you and your beloved.
Using R32 equipped air-condition units, can contribute in greater efficiency and high comfort levels, with very small environmental impact.