Become an Inventor Partner
Specs
MODEL

RCSI - 09 / RCSO - 09
9,000

Cooling Capacity

2.64

kWatt

EER

2.61

W / W

Voltage / Frequency / Phase

230 / 50 / 1

V / Hz / Ph
Current Input-Cooling

6.94

A

Power Input-Cooling

1,010

W

Air Flow Volume (Hi / Med / Low)

400

m³ / h

Noise Level-Indoor Unit

37

(db(A))

Noise Level-Outdoor Unit

50

(db(A))

Compressor Type

ROTARY

Liquid line / Gas line

1 / 4" / 3 / 8"

Dimensions -Indoor Unit WxDxH

730 × 255 × 174

mm

Dimensions - Outdoor Unit WxDxH

720 × 430 × 310

mm

Net Weight Indoor / Outdoor

8 / 25

kg

Refrigerant

R22 / 550g

Operation Temperature Range-Cooling

18~43

ͦC

Operation Temperature Range-Heating

-

ͦC

Loading Quantities per 20' / 40'HC

150 / 350
MODEL

RCSI - 12 / RCSO - 12
12,000

Cooling Capacity

3.22

kWatt

EER

2.61

W / W

Voltage / Frequency / Phase

230 / 50 / 1

V / Hz / Ph
Current Input-Cooling

6.30

A

Power Input-Cooling

1,235

W

Air Flow Volume (Hi / Med / Low)

550

m³ / h

Noise Level-Indoor Unit

38

(db(A))

Noise Level-Outdoor Unit

52

(db(A))

Compressor Type

ROTARY

Liquid line / Gas line

1 / 4" / 1 / 2"

Dimensions -Indoor Unit WxDxH

790 × 265 × 177

mm

Dimensions - Outdoor Unit WxDxH

798 × 540 × 320

mm

Net Weight Indoor / Outdoor

9 / 30

kg

Refrigerant

R22 / 730g

Operation Temperature Range-Cooling

18~43

ͦC

Operation Temperature Range-Heating

-

ͦC

Loading Quantities per 20' / 40'HC

101 / 244
MODEL

RCSI - 18 / RCSO - 18
15,354

Cooling Capacity

4.50

kWatt

EER

2.47

W / W

Voltage / Frequency / Phase

230 / 50 / 1

V / Hz / Ph
Current Input-Cooling

12.01

A

Power Input-Cooling

1,820

W

Air Flow Volume (Hi / Med / Low)

650

m³ / h

Noise Level-Indoor Unit

43

(db(A))

Noise Level-Outdoor Unit

57

(db(A))

Compressor Type

ROTARY

Liquid line / Gas line

1 / 4" / 1 / 2"

Dimensions -Indoor Unit WxDxH

845 × 275 × 186

mm

Dimensions - Outdoor Unit WxDxH

848 × 540 × 320

mm

Net Weight Indoor / Outdoor

10 / 41

kg

Refrigerant

R22 / 1.000g

Operation Temperature Range-Cooling

18~43

ͦC

Operation Temperature Range-Heating

-

ͦC

Loading Quantities per 20' / 40'HC

101 / 244
MODEL

RCSI - 24 / RCSO - 24
21,000

Cooling Capacity

6.16

kWatt

EER

2.68

W / W

Voltage / Frequency / Phase

230 / 50 / 1

V / Hz / Ph
Current Input-Cooling

16.20

A

Power Input-Cooling

2,300

W

Air Flow Volume (Hi / Med / Low)

850

m³ / h

Noise Level-Indoor Unit

45

(db(A))

Noise Level-Outdoor Unit

56

(db(A))

Compressor Type

ROTARY

Liquid line / Gas line

1 / 4" / 1 / 2"

Dimensions -Indoor Unit WxDxH

940 × 298 × 200

mm

Dimensions - Outdoor Unit WxDxH

913 × 680 × 378

mm

Net Weight Indoor / Outdoor

13 / 48

kg

Refrigerant

R22 / 1.200g

Operation Temperature Range-Cooling

18~43

ͦC

Operation Temperature Range-Heating

-

ͦC

Loading Quantities per 20' / 40'HC

64 / 154
Benefits
Auto Error Diagnosis
Once abnormal operation or parts failure happens, the unit will shut off automatically to protect the system. Meanwhile it will indicate protection or error code for fast service.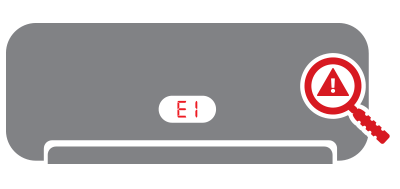 Auto Restart
If the air conditioner breaks off unexpectedly due to the power cut, it will restart with the previous setting mode automatically when the power resume.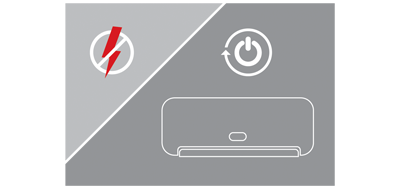 More
Louver Position Memory
Horizontal louver will automatically move to the same position as you set last time when the unit turned on
Auto Swing Louver
Distributes cool/warm air to maximum area by moving horizontal flaps automatically.
Two-way Draining
Both left and right sides of the indoor unit are possible for drainage hose connection, easy for installation.