Become an Inventor Partner
Technical specifications - V5 & V6
MODEL

V5MDI32-12WiFiR/U5MRS32-12

Cooling Capacity

12.000 (5.100-16.200)

Btu / h

Cooling Capacity

3.51 (1.49-4.75)

kWatt

Heating Capacity

14.000 (3.300-19.200)

Btu / h

Heating Capacity

4.10 (0.97-5.63)

kWatt
Seasonal Efficiency

Cooling

In accordanceto EN14825

Pdesign

3.5

kW

Energy Class

Α++

SEER

6.5

Seasonal Efficiency

Heating (Middle Zone)

In accordanceto EN14825

Pdesign

3.2

kW

Energy Class

A+

SCOP

4.0

Seasonal Efficiency

Heating (Warm Zone)

In accordanceto EN14825

Pdesign

3.7

kW

Energy Class

Α++

SCOP

4.8

Voltage / Frequency / Phase

220-240 / 50 / 1

V / Hz / Ph

Current Input Cooling / Heating

4.22 (1.7-7.2) / 5.0 (1.7-9.0)

A

Power Input Cooling / Heating

950 (350-1.620) / 1.100 (350-2.050)

W

Air Flow Volume (High / Medium / Low)

600/480/300

m³ / h

Outdoor Static Pressure

0-60

Pa

Noise Level Indoor unit (Low / Medium / High)

26/30.5/35

dB(A)

Noise Level Outdoor unit

55.5

dB(A)

Sound Power Level

56/63

dB(A)

Power Supply Wire Outdoor / Fuses

3x2.5/1x16

No x mm² / Α

Power Supply Wire Indoor / Fuses

3x1.5 / 1x10

o x mm² / Α

Signal Wires

2x1.0 Shield

No x mm²

Dimensions Indoor unit (WxDxH)

700x450x200

mm

Dimensions Outdoor unit (WxDxH)

800x333x554

mm

Net Weight

18/34.7

kg

Liquid line - Gas line

1/4"/3/8"

Refrigerant / Charge

R32/870

g

Outdoor Operation Temperature Range Cooling / Heating

-15~50/-15~24

°C
MODEL

V5MDI32-24WiFiR / U5MRS32-24

Cooling Capacity

24.000 (11.180-27.830)

Btu / h

Cooling Capacity

7.03(3.28-8.16)

kWatt

Heating Capacity

26.000 (9.280-29.750)

Btu / h

Heating Capacity

7.62 (2.72-8.72)

kWatt
Seasonal Efficiency

Cooling

In accordanceto EN14825

Pdesign

7.0

kW

Energy Class

Α++

SEER

6.1

Seasonal Efficiency

Heating (Middle Zone)

In accordanceto EN14825

Pdesign

5.4

kW

Energy Class

A+

SCOP

4.0

Seasonal Efficiency

Heating (Warm Zone)

In accordanceto EN14825

Pdesign

6.1

kW

Energy Class

A+++

SCOP

5.1

Voltage / Frequency / Phase

220-240/50/1

V / Hz / Ph

Current Input Cooling / Heating

9.5 (2.1-12.4) / 8.9 (2.2-12.5)

A

Power Input Cooling / Heating

2.190 (480-2.850) / 2.050 (500-2.880)

W

Air Flow Volume (High / Medium / Low)

1.248/1.054/839

m³ / h

Outdoor Static Pressure

0-160

Pa

Noise Level Indoor unit (Low / Medium / High)

38/40/42

dB(A)

Noise Level Outdoor unit

62

dB(A)

Sound Power Level

62/65

dB(A)

Power Supply Wire Outdoor / Fuses

3x2.5/1x16

No x mm² / Α

Power Supply Wire Indoor / Fuses

3x1.5 / 1x10

o x mm² / Α

Signal Wires

2x1.0 Shield

No x mm²

Dimensions Indoor unit (WxDxH)

1.100x774x249

mm

Dimensions Outdoor unit (WxDxH)

845x363x702

mm

Net Weight

31.5/49.4

kg

Liquid line - Gas line

3/8"/5/8"

Refrigerant / Charge

R32/1.500

g

Outdoor Operation Temperature Range Cooling / Heating

-15~50/-15~24

°C
MODEL

V5MDI32-36WiFiR/U5MRS32-36

Cooling Capacity

36.000 (13.800-41.000)

Btu / h

Cooling Capacity

10.55 (4.04-12.02)

kWatt

Heating Capacity

38.000 (9.580-45.000)

Btu / h

Heating Capacity

11.14 (2.81-13.19)

kWatt
Seasonal Efficiency

Cooling

In accordanceto EN14825

Pdesign

10.5

kW

Energy Class

Α++

SEER

6.1

Seasonal Efficiency

Heating (Middle Zone)

In accordanceto EN14825

Pdesign

8.4

kW

Energy Class

A+

SCOP

4.0

Seasonal Efficiency

Heating (Warm Zone)

In accordanceto EN14825

Pdesign

10.5

kW

Energy Class

A+++

SCOP

5.1

Voltage / Frequency / Phase

220-240/50/1

V / Hz / Ph

Current Input Cooling / Heating

17.5 (4.2-19.6) / 12.9 (3.6-18.4)

A

Power Input Cooling / Heating

4.000 (902-4.900) / 3.100 (800-4.640)

W

Air Flow Volume (High / Medium / Low)

1.400/1.150/750

m³ / h

Outdoor Static Pressure

0-160

Pa

Noise Level Indoor unit (Low / Medium / High)

40/43/47

dB(A)

Noise Level Outdoor unit

65

dB(A)

Sound Power Level

63/67

dB(A)

Power Supply Wire Outdoor / Fuses

3x4.0/1x25

No x mm² / Α

Power Supply Wire Indoor / Fuses

3x1.5 / 1x10

o x mm² / Α

Signal Wires

2x1.0 Shield

No x mm²

Dimensions Indoor unit (WxDxH)

1.360x774x249

mm

Dimensions Outdoor unit (WxDxH)

946x410x810

mm

Net Weight

40.5/66.8

kg

Liquid line - Gas line

3/8"/5/8"

Refrigerant / Charge

R32/2.400

g

Outdoor Operation Temperature Range Cooling / Heating

-15~50 /-15~24

°C
MODEL

V5MDI32-50WiFiR/U5MRT32-50

Cooling Capacity

48.000 (14.545-51.845)

Btu / h

Cooling Capacity

14.07 (4.26-15.19)

kWatt

Heating Capacity

55.000 (12.621-61.500)

Btu / h

Heating Capacity

16.12 (3.70-18.02)

kWatt
Seasonal Efficiency

Cooling

In accordanceto EN14825

Pdesign

14.0

kW

Energy Class

Α++

SEER

6.1

Seasonal Efficiency

Heating (Middle Zone)

In accordanceto EN14825

Pdesign

12.1

kW

Energy Class

A+

SCOP

4.0

Seasonal Efficiency

Heating (Warm Zone)

In accordanceto EN14825

Pdesign

12.5

kW

Energy Class

A+++

SCOP

5.1

Voltage / Frequency / Phase

380-415/50/3

V / Hz / Ph

Current Input Cooling / Heating

8.3 (1.8-9.4) / 6.8 (1.5-9.2)

A

Power Input Cooling / Heating

5.150 (1.170-5.699) / 4.280 (948-5.824)

W

Air Flow Volume (High / Medium / Low)

2.400/2.040/1.680

m³ / h

Outdoor Static Pressure

0-160

Pa

Noise Level Indoor unit (Low / Medium / High)

48/50/51

dB(A)

Noise Level Outdoor unit

66

dB(A)

Sound Power Level

68/72

dB(A)

Power Supply Wire Outdoor / Fuses

5x2.5 / 3x20

No x mm² / Α

Power Supply Wire Indoor / Fuses

3x1.5 / 1x10

o x mm² / Α

Signal Wires

2x1.0 Shield

No x mm²

Dimensions Indoor unit (WxDxH)

1.200x874x300

mm

Dimensions Outdoor unit (WxDxH)

952x415x1.333

mm

Net Weight

47.6/106.7

kg

Liquid line - Gas line

3/8"/5/8"

Refrigerant / Charge

R32/2.800

g

Outdoor Operation Temperature Range Cooling / Heating

-15~50 / -15~24

°C
MODEL

V5MDI32-60WiFiR/U5MRT32-60

Cooling Capacity

52.000 (20.000-59.000)

Btu / h

Cooling Capacity

15.24 (5.86-17.29)

kWatt

Heating Capacity

62.000 (16.000-70.000)

Btu / h

Heating Capacity

18.17 (4.69-20.52)

kWatt
Seasonal Efficiency

Cooling

In accordanceto EN14825

Pdesign

15.3

kW

Energy Class

Α++

SEER

6.1

Seasonal Efficiency

Heating (Middle Zone)

In accordanceto EN14825

Pdesign

12.5

kW

Energy Class

A+

SCOP

4.0

Seasonal Efficiency

Heating (Warm Zone)

In accordanceto EN14825

Pdesign

13.1

kW

Energy Class

A+++

SCOP

5.1

Voltage / Frequency / Phase

380-415/50/3

V / Hz / Ph

Current Input Cooling / Heating

8.93 (2.0-11.6) / 8.8 (1.6-10.5)

A

Power Input Cooling / Heating

5.423 (1.274-6.651) / 5.329 (1.042-6.034)

W

Air Flow Volume (High / Medium / Low)

2.600/2.210/1.820

m³ / h

Outdoor Static Pressure

0-160

Pa

Noise Level Indoor unit (Low / Medium / High)

51/52/54

dB(A)

Noise Level Outdoor unit

66

dB(A)

Sound Power Level

71/74

dB(A)

Power Supply Wire Outdoor / Fuses

5x2.5 / 3x20

No x mm² / Α

Power Supply Wire Indoor / Fuses

3x1.5 / 1x10

o x mm² / Α

Signal Wires

2x1.0 Shield

No x mm²

Dimensions Indoor unit (WxDxH)

1.200x874x300

mm

Dimensions Outdoor unit (WxDxH)

952x415x1.333

mm

Net Weight

47.6/111.3

kg

Liquid line - Gas line

3/8"/5/8"

Refrigerant / Charge

R32/2.950

g

Outdoor Operation Temperature Range Cooling / Heating

-15~50 / -15~24

°C
Technical specifications - V4
MODEL

V4MDI-100/U4MRT-100

Cooling Capacity

95.536 (28.661-105.090)

Btu / h

Cooling Capacity

28.0 (8.4-30.8)

kWatt

Heating Capacity

107.478 (32.243-118.226)

Btu / h

Heating Capacity

31.5 (9.45-34.65)

kWatt
EER

3.11

COP

3.71

Voltage / Frequency / Phase

380-415/50/3

V / Hz / Ph

Current Input

16

A

Power Input Cooling / Heating

9.000 / 8.500

W

Air Flow Volume Indoor (min/max)

3.000/4.800

m³ / h

Air Flow Volume Outdoor

9.800

m³ / h

Outdoor Static Pressure

0~150

Pa

Noise Level Indoor unit (Low / High)

49/52

dB(A)

Noise Level Outdoor unit

59

dB(A)

Dimensions Indoor unit (WxDxH)

1.470×775x512

mm

Dimensions Outdoor unit (WxDxH)

1.120×528x1.558

mm

Net Weight

83/148

kg

Liquid line - Gas line

3/8" | 1"

Refrigerant / Charge

R410a/7.200

g

Outdoor Operation Temperature Range Cooling / Heating

-15~48/-15-24

°C
Benefits
Error Alarm Port
Take the whole control of you unit! Thanks to the error code that will appear if an error occurs, you can always be safe and sure for the appropriate and most efficient operation of your air conditioner.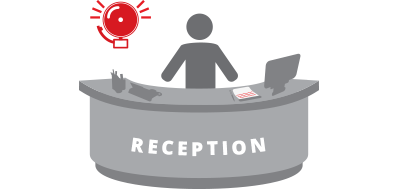 Low Ambient Cooling
The outdoor unit's special design produces an efficient and effective cooling operation even at -15°C.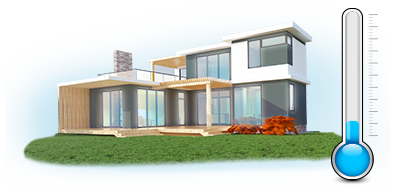 Excellent Heating Performance Under -15°C
Excellent heating performance even at the most demaning regions with low temperature levels. Ensure the prefered temperature conditions, even at -15°C and enjoy ideal conditions in your place.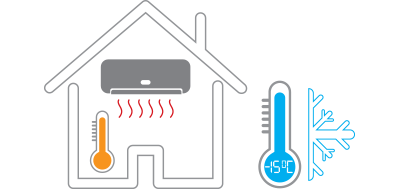 More
24-hour Timer
Set the unit to start and stop automatically in a 24h period.
Quiet Operation
This feature refers to the reduced noise emissions in order to achieve a pleasant and comfortable unit operation. The special design of the indoor unit offers excellent performance at the lowest noise level, so that to enjoy ideal conditions of absolute silence.
Turbo Mode
This function gives you a boost in cooling and heating power for a period and makes the room cool down or heat up rapidly.
Auto Error Diagnosis
Once abnormal operation or parts failure happens, the unit will shut off automatically to protect the system. Meanwhile it will indicate protection or error code for fast service.
Auto Restart
If the air conditioner breaks off unexpectedly due to the power cut, it will restart with the previous setting mode automatically when the power resume.
All DC Inverter
The fan motors of the indoor and outdoor units as well as the compressor have been upgraded to All DC Inverter technology. In this way, the compressor can change the capacity depending on the needs of the indoor atmosphere and create perfect conditions in your space.
Lock
Engage the lock function to prevent anyone from changing the settings or children playing with the unit.
Media Library for Ducted
User & Installation Manuals - Energy Labels - Pdesign Test Report - High Resolution Photos